We have far more traditions for Christmas than we do for Thanksgiving. I am however, big on tradition. We almost always have the traditional turkey dinner. One of the things we have done over the years is spend the Thanksgiving Holiday with my hubby's family in a nearby city. If everyone comes there is 24 of us. The day is filled with lots of laughter, children, (his sis does foster care) and fun. Not to mention
way
too much food.
Something we have done, that I really enjoy is to put everyone's name in a bowl, pass it around the table, draw a name, and then talk about what we are thankful for about the person whose name we drew. Because families are not perfect and there is sometimes "drama " this "game" reconnects people and makes us all view a loved one through a different perspective. It is fun to hear what everyone shares and it just kinda gives you a warm fuzzy for the day.
Thanksgiving weekend is when I pull out the Christmas decorations. It takes days for me to decorate the house. I could open a store with the amount of christmas decor I have. Every room in the house changes for Christmas. It is almost like moving,packing away the everyday stuff and transforming each room for the Christmas season.
Another tradition we have, is playing Christmas music starting on Halloween. I think this started when my girls were very little and it snowed on halloween day. The girls thought it felt like Christmas so we pulled out the Christmas music and the tradition was born. My hubby thinks we are crazy but I even find
him
humming to the music now and then. We have several more Christmas traditions I will share later. What are your traditions? Link up with
Is So Very Cheri for the party.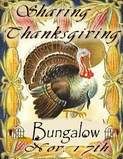 And Link up with Debra @
Bungalow
for more Thanksgiving Sharing