The bedroom transformation has been a few years in the making(in my mind at least) We still had the "contractor" white walls from 13yrs ago. Somehow our room became the catch all of the house and never really seemed inviting. Our furniture is from the early eighties and a hodgepodge of odds and ends.
The new bedding I received for my birthday a few weeks ago, finally spurred me on to do something in this very neglected room.
So we started with the paint. I picked a creamy color from Valspar called Moose Mousse for the ceiling and Universal Umber for the walls.
We found this great iron headboard and footboard from a garage sale for $40.00 It also has an iron canopy piece that we will show you after it gets repaired. I ended up taking the eighties dresser outside and painting it (more on that process in a later post) I will be replacing the hardware too. Here are the before pictures.
This is not a "true" before because the old bedding has been replaced by the new.
Gotta love the eighties furniture : )
The clock above was a gift from a friend(love it)
This picture is just to let you see the "great "headboard
(It was a water bed leftover : )
Okay now for some better pictures
Nothing above the bed yet, because the metal canopy will fill in the space
The dresser is still a work in progress
Aside from the blue carpet (that I have to live with) I love this room!
I will continue to share the progress with the decorating as I go along
Did you notice the lamps? They are the same lamps in the before pictures, with new lamp shades. I got them at Lowe's on clearance for $7.48 each. A great way to make an old lamp look new again.
Linking to the following parties: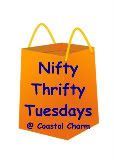 ;