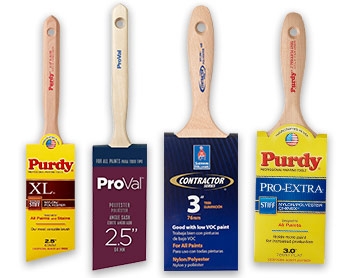 Hi there
So far in our paint series we have learned about types of paint finishes, how to pick a color and lots of other general info. Today we are talking about the tools for creating a professional looking painted room. Here are the things I think are essential.
Drop Cloths...
A good quality canvas cloth works great and will protect better than plastic which tends to slip and slide
Good brushes...
Resist the temptation to go for the cheapest and instead go for quality when choosing a paintbrush. Look for bristles that don't clump and will remain flexible.
Purdy
is the preferred brand in our home cost a bit more but worth it.
Sherwin williams has a great video on how to choose the right brush
here
Tape....
I prefer the frog tape when I do tape If you can find the orange I like it even better than the green.
Just be sure when taping that you seal the tape edges by pressing down firmly to prevent any leakage.
Roller, covers and roller trays (liners for the trays)...
Again don't skimp here make sure the nap is the right nap for the paint and job you are doing. (read the package suggestions)
I often buy extra rollers I hate cleaning the rollers out, so I like to just toss them and use a new one next time (I know Lazy huh : ))
A small cup with a handle (like an old mug) for that fine line work
Ladder/ stool
A paint stir attachment for the drill to mix the paint thoroughly
Whips it up much faster than a stir stick
Spackle/putty knife
For filling all the nail holes etc
Rags
for clean up
Lots of patience
While I know this seems like basic information, there are a lot of gals out there who have never ever painted a room before.
Having everything you need at your finger tips simplifies the process and keeps you organized.
There is nothing more frustrating than starting a project and then having to stop every few minutes to "look" for something .
Later this week, the prep process and tips for choosing the right amount of paint.