I was bored the other day... not
really
bored, just not wanting to do all that I should be doing. Sometimes all of the "have to's " are things that just get "undone". Like making the bed for example. You do it up pretty with pillows, etc and just a few hours later off they all come and it starts all over again. I wanted to do something that wouldn't just be
undone. S
o, out came the craft stuff
I started with a piece of scrap wood that was out by the fire pit. gave it a light sanding, painted it everyone's favorite, Heirloom white. Found a vinyl word that was a freebie from a presentation I went to a while back. Rubbed it on the block
Decided it was
too
white for my taste, so I got out my favorite universal umber paint, thinned it with a bit of water, painted it all over the block and then wiped it off leaving only a small amount of color. You can see in this picture below
Still looking a little too plain to me so I kept digging in the scrapbook boxes until I found some fabric that I tore to make a "ribbon"
Added some flowers, a button and a Key.
Voila !!A little shelf sitter that cost me virtually nothing
This cute little gem is making it's way across the country soon by way of a blog swap. Hope it likes it new home!!
I will be linking this to a few parties and fabric fun thursday is probably a bit of a stretch but aI just hate to miss a good party and there is fabric on this thing : )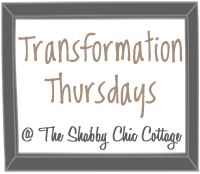 Linking up to frugal friday over at the shabby nest